The ESA Registration Of America
Register your dog, cat or other animal, get therapist letters, IDs, vests, & more!
The ESA Registration Of America
Register your Emotional
Support Animal
Hassle free emotional support animal registration, supplies, and information
Fewer things in life give us more joy than spending time with our pets. Whether it's taking your dog out for a walk or cuddling up with them at night, pets offer an unmatched companionship you can cherish for years.
What's more, dogs can help people struggling with mental health problems perform daily tasks otherwise made difficult by their condition. Their dog can provide comfort and support, which ultimately makes their condition more manageable. Pets that help people improve their mental health are known as emotional support animals (ESAs).
Who uses the Emotional
Support Animal Registry?
All types of people with varying needs
Already Registered your Emotional Support Animal?
You'll need an ESA Evaluation Letter next
ESA has joined forces with a team of mental health professionals with an expertise in Emotional Support Animal Evaluations and Prescription Letters to help you with your ESA and to provide you with your evaluation/letter which is required by law to travel with your animal.
Get Started with an ESA of America Kit.
Register and purchase emotional support animal supplies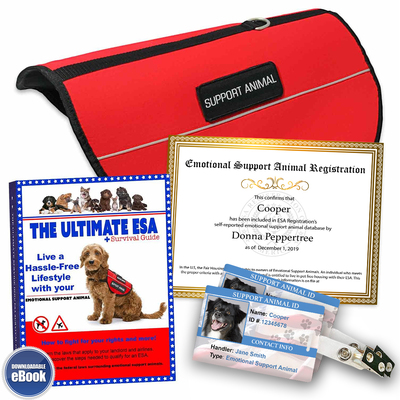 Listing In Our Database
Two (2) PVC IDs
ESA Vest/Harness
Paperless Certificate (Download)
ESA eGuidebook (Download)
Free Shipping
Listing In Our Database
Free Replacement IDs for life***
Two (2) PVC IDs
ESA Vest/Harness
Three (3) mini PVC ID's
Paperless Certificate (Download)
ESA eGuidebook (Download)
Free Shipping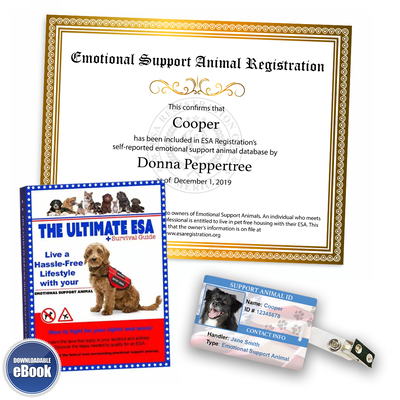 Listing In Our Database
One PVC ID
Paperless Certificate (Download)
ESA eGuidebook (Download)
Free Shipping
Benefits of Having an Emotional Support Animal Letter
Fly with your ESA Animal *
Live in Pet Free Housing with your Support Animal
Our online shop supplies products for dogs
We provide convenient bundles that will save money when you purchase several related products at once. These kits all come with free shipping.
Leashes
Harnesses
Collars
Patches
ID Cards
"I would like to thank your organization for helping me get my emotional support animal registered properly and introducing me to the mental health professional that completed my evaluation and letter. It was a much smoother process than I ever imagined it being!"
"Thanks so much for the wonderful products and for making it so easy to schedule an appointment with a therapist. My emotional support dog's ESA letter along with the reasonable accommodation form from your mental health provider was everything I needed. Also thank you to your wonderful team that explained the difference between a service dog and the type of animal I actually qualified for."
Nancy R.
Palos Verdes, CA
What is the difference between an Emotional Support Animal (ESA) and a Service Dog?
Emotional Support Animals (ESA) are animals that provide therapeutic benefits to their owner through affection and companionship. A Service Dog is specially trained to perform a task to help someone with a disability. A seeing eye dog is one example of a Service Dog. Unlike a Service Dog, an emotional support animal does not need specialized training to handle a task. Further, Emotional Support Animals come in different breeds and animal types and are not just limited to dogs, while Service Animals are either dogs or mini horses.
Read More
How do I take my ESA on an airplane?
As of January 2021, the US Department of Transportation announced that ESA's are no longer a protected class of animal on domestic airlines. It is up to the airline itself to determine whether they will allow ESA's. Prior to January 2021, any airlines asked that you notify them in advance when traveling with an Emotional Support Animal. Each airline has their own individual policies so please check their ESA policy before booking a flight. Some airlines may require a reasonable accommodation form to be signed off by the therapist who has evaluated you. Please notify ESA registration of America before purchasing a travel letter if we can accommodate that specific airlines request.
Read More
What airlines have banned ESA's?
As of January 2021, American Airlines, Delta Airlines, JetBlue, Frontier, United Airlines, Alaska Airlines have all banned emotional support animals from traveling free of charge on their flights. We recommend all customers to check with any other individual airline to get their most up to date ESA policy. Housing letters for ESA's do not face any problems.
Are emotional support animals allowed in all public places?
Unlike service dogs, Emotional Support Animals do not have access rights to all public areas. However, ESA's can live in pet-free housing. Service Dogs, however, are allowed to accompany their owners wherever they go, including most airlines.
What type of proof should I have with me when traveling or moving into a new house with my Emotional Support Animal?
The law requires all ESA's to have a letter written by a mental health professional. The letter states that the Emotional Support Animal provides therapeutic value to its owner and verifies the validity of the ESA. If you do not have your ESA evaluation letter yet, you can schedule an assessment with one of our mental health professionals via a HIPAA compliant video conference call. The therapist will determine if you qualify for an ESA letter. It is important to note that certain airlines have legally banned ESA's from flying, so contact your carrier before purchasing a letter specifically for air travel purposes.